Innovation Canvas Course for KTP Associates
This 20+ hour course focused on the role of innovation as a framework for new product and service development.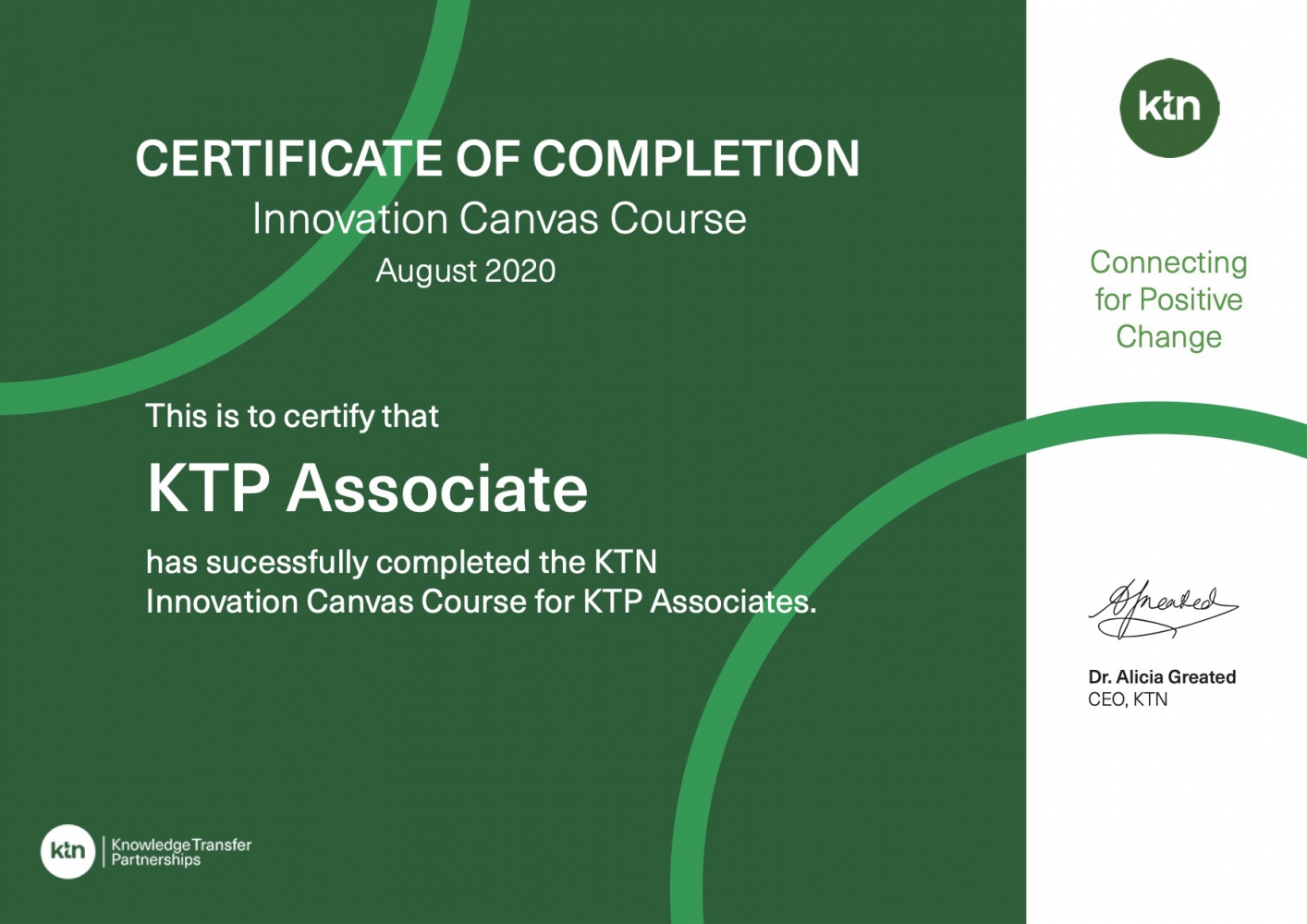 It addressed the challenges KTP Associates often face in using innovation as a process to generate competitive advantage within their host companies. Established in 1975, Knowledge Transfer Partnerships (KTP) are one of the world's leading knowledge transfer mechanisms - providing businesses with access to the UK's world class academic expertise and helping them to innovate for growth and embed knowledge for lasting, positive impact.

COURSE CONTENT
Building on the Innovation Canvas's model of Opportunity, Offer and Capability, the course was delivered to KTP Associates across the UK by a team of KTN staff and external innovation experts. Topics included:
The different types of product & service innovation
Their contribution to the organisation's competitive advantage
The techniques and methods used for managing the innovation process
How to identify and address the barriers that may impact on the delivery and adoption of a new product or service
The importance of innovation as part of the marketing and sales proposition for a new product or service
Managing risk and protecting your innovation
The leadership and people management side of innovation
The development of an innovation strategy and how to pitch it to stakeholders
LEARNING OUTCOMES
KTP Associates on the course have enhanced their knowledge and expertise in the following areas:
Knowledge and understanding of key concepts and principles concerning new product and service development

The role of product and service innovation and its contribution to generating competitive advantage in firms
The range of tools and methods that are used to manage new product / service development
The complementary theories and frameworks that underpin the innovation process
Skills and techniques specific to new product / service development
Identifying the product and service innovations required to ensure the effective delivery of a proposed business opportunity
Analysing the components of potential product and service innovations and establishing the capability of the organisation to support their delivery
Learning to reflect on and review the process to identify critical success factors in delivering product and service innovation
Practical and transferable skills
Analysing case studies as an interactive means of investigation and learning Undertaking deductive and inductive reasoning
Assessing the reasoning of others by engaging in debates
Preparing presentations for board level delivery
Understanding and application of a wide range of virtual tools
Organising and facilitating the capture of information to support the innovation process
How to receive and provide constructive feedback

COURSE GRADUATES, AUGUST 2020
The following KTP Associates successfully completed the course
Aakash Soni
Abdo Alnabulsi
Amr Sufian
Bahare Tamadon
Bishoy Abdou
Blessing Mbipom
Carla Resendiz Villasenor
Chris Tapply
Christopher Taylor
Daniel Walker
Estibaliz Fraca Santamaria
Fraser Stewart
George Harris
Hannah Dockings
Hichem Barki
Jack Marley McIntyre
Jakub Rycerz
Josh Turner
Le Thi Minh Trang
Louise Gamble
Luke Bissell
Luke Roberts
Matthew Hooper
Mohammed Arshad
Ross Bramston
Ryan Ganfield
Sam Page
Scott Olphert
Vimal Anand Baghel
Weichi Zhang